Welcome!
Welcome to the home page of the Santa Clara County Rose Society.
Santa Clara County encompasses the area from Palo Alto to Gilroy, California (essentially most of Silicon Valley).
We are located in USDA Zone 9.
Be sure to see our Facebook page.
2018 Annual Rose Show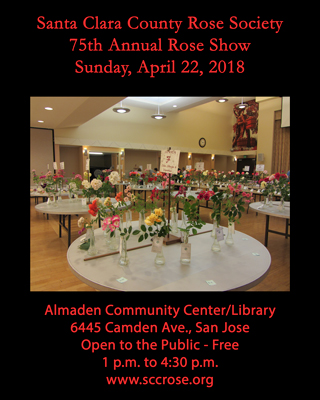 Our 2018 Annual Rose Show will be on Sunday, April 22 at the Almaden Community Center / Library.
Viewing of roses for the public will be from 1-4:30 PM Sunday.
Hundreds of beautiful roses will be on display for the public to enjoy.
Come and find examples of your old favorites, as well as new varieties you'll want to add to your garden!
Free to the public. See link for details.
Next Meeting - Friday, May 18
Program - To be determined
Please note the date is May 18 - not May 11 due to scheduling issues.
Free to the public.
Since O'Connor Hospital has many buildings, be sure to read our detailed Directions.
When and Where Do We Meet?
Our meetings occur the 2nd Friday of each month (except during July and August) at the
O'Connor Medical Office Building Auditorium, 2101 Forest Avenue, San Jose - right next to O'Connor Hospital.
Doors open at 7:15 PM, program starts at 7:30 PM.
Since O'Connor has many buildings, be sure to read our detailed Directions.
About the SCCRS
The Santa Clara County Rose Society (SCCRS) was founded in 1927, and is affiliated with the American Rose Society (ARS).
Our mission is to encourage interest in the rose, to promote its cultivation,
and to disseminate information on its culture among any interested people.
Although this home page is mostly intended for residents of Santa Clara County,
we hope that people outside the county will find it useful too.
Learn more about the SCCRS's history.

Contact us
Copyright 1995-2018 Santa Clara County Rose Society